Amphenol Custom OEM Sensors for Medical Devices & Your Bottom Line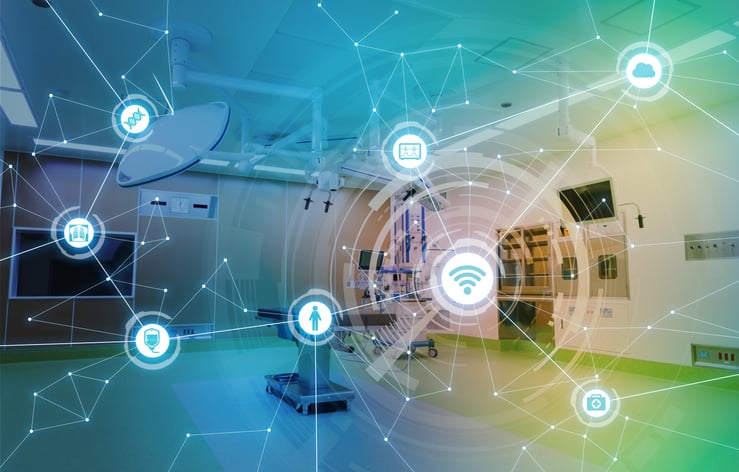 In many respects, an OEM medical device is only as good as the sensors providing it critical feedback data.
Whether your device monitors patient vital signs, takes diagnostic tests, or performs a continuous function, the sensor technology supporting it should be the last thing to worry about. In an ideal situation, the integrated medical sensors in your devices only enhance functionality and reliability.
However, custom OEM sensors for medical devices are indeed an investment. Working with the right partner can mean a lot for your company's bottom line.
That's why choosing your sensor manufacturer carefully is one of the most important decisions you can make for your product design.
Carefully designed and crafted sensors can have a major impact on the lifetime cost and performance of your device.
As an advanced medical sensor manufacturer with decades of experience, we understand this and appreciate the high level of expectations our clients have for our products. That's why we've continuously refined our sensor technology to blend sophistication and robustness for optimized and reliable performance.


How Amphenol Custom OEM Sensors for Medical Devices Maximize Your Investment
Regardless of their function, your medical device(s) represents a lot:
Thought capital
Countless hours of engineering & design
Financial investment
An extension of your company's reputation
The last thing you want is to outfit it with third-party components that throttle its performance – or worse yet, lead to malfunctions. A bad customer experience – particularly in the medical field – can have costly, long-term effects that are tough to get past.
What does integrating an Amphenol custom OEM sensor for medical devices into your project do for your bottom line? In addition to a final product that's designed to meet and exceed performance expectations, Amphenol sensors come with:
Multi-layered support
Single source manufacturing
Design and engineering assistance
Built-in intellectual property protection
Global presence
Long-term relationship
1. Multi-Layered Support
Direct sales managers.
Sales reps.
Field application engineers.
Mechanical and electrical engineers.
Distribution channels.
Broadly speaking, these are just a few of the many teams you'll work with to create a sensor customized for your project. Our in-house multi-layered support system lets you consolidate outside help to create your sensors to a single entity. You won't have to deal with the headache or complicated logistics of managing a small army of vendors and suppliers.


2. Single Source Manufacturing
When we work on your custom sensor, we're the only ones working on it. From the assembly to the sensor itself, we maintain a single source of responsibility.
The result is the delivery of a finished product that meets your exact specifications and exceeds industry standards. This means less time spent on troubleshooting problems and more time devoted to putting the finishing touches on your device.
While keeping things in-house controls a sensor's price, it also allows us to control quality. We know the caliber of product coming off our manufacturing lines. What's more, as a single source sensor maker, it's not nearly as labor or time intensive for us to make adjustments to your sensor product as needed. There's no one more familiar with the sensor than us.


3. Design & Engineering Assistance
Know what type of sensor you need but don't have the capabilities to design it?
No worries. We do.
As with any custom sensor project, our design and engineering teams become yours. Our engineers work with your medical device design team from start to finish, helping you craft a sensor that meets your exact specifications. From material selection to final assembly, we consider every detail down to the most minute specs. This ensures that our sensors are optimal for their environment of use and designed to last.
We also consider the demands of your final product, such as connectivity and compliance requirements, in our design process to guarantee compatibility with other parts of your device.


4. Built-in Intellectual Property Protection
Your medical devices are unique. So are the custom sensors manufactured for them.
As far as we're concerned, the custom sensor(s) we design and manufacture for your healthcare devices are indeed yours. You won't need to worry about a generic version of the sensor being produced and sold to your competitors.


5. Global Presence
As a global company, we have a presence in almost every continent and major market.
Those teams we mentioned earlier that work with you? They're present at our locations throughout the world. If you're located in say, China, we have a team there that will work with you the same as we do for those in North America or Europe.
And while geographic borders and oceans may physically separate our teams, neither prevents them from working together. In other words, our teams remain collaborative with each other regardless of location, allowing for idea-sharing and problem-solving for your project.


6. Long-Term Relationship
For us, our relationship is simple.
From the day we begin working together, we're your partner and available to provide support as you need through the life of your device equipped with our sensor technology.
For you, that means you'll never need to look too far for support when needed. What's more, when it comes time to design a custom sensor for your next OEM medical device, you won't need to look far – our team will be ready to hit the ground running. There won't be a learning curve to understand your company or its products and processes.
And who better to design and manufacture a custom sensor than a company you have a track record of success with?


The Safety Net of Experience
Custom OEM sensors for medical devices are the last place to take chances. As a component that provides feedback for monitoring or intervention, high-quality,and high-performance sensor technology is an absolute necessity for medical equipment design.
An investment in an Amphenol sensor for your medical device offers the safety net of our experience. Our decades of creating customized sensor solutions means you can be confident that our sensors are designed to last and meet all applicable standards for healthcare use.
Performance – Leveraging our decades of experience, a custom Amphenol sensor is designed to meet the expected demands of performance through the entirety of your device's expected useful life. You can rest easy that it will withstand the environment it operates in without decreased accuracy or reliability.
Enhanced Protection from Liability – Expertly designed, manufactured to meet all standards and regulations, and carefully tested, Amphenol sensors are made to exceed all performance expectations in the field. This means you'll worry less about a sensor failure creating a device malfunction that impacts patient care and could result in a lawsuit.
Reputation – To our original point, OEM medical equipment is only as good as the sensors inside it. Put simply, there's no better way to have a solid reputation in the medical device industry than by making products that work exactly as they're supposed to for as long as they're supposed to. Nothing encourages a client to forget your name faster than dealing with a product that comes up short.
Custom OEM Sensors for Health Devices That Deliver
When it comes to the success of any medical device, choosing the right sensor is becoming more and more essential. Investing in a quality custom OEM sensor for your product can have major impacts on its performance and lifetime cost.
Amphenol custom OEM sensors for medical devices offer the perfect blend of sophistication and strength that you need to optimize your device's performance with reliable and robust technology. Our decades of experience in the medical sector means integrating our custom sensors into your medical devices is making the most of your investment while protecting your bottom line.
Ready to Get to Work?
Our engineers are! Book time to discuss your project today: