EV Sensor Sourcing & Navigating Automotive Supply Chain Impediments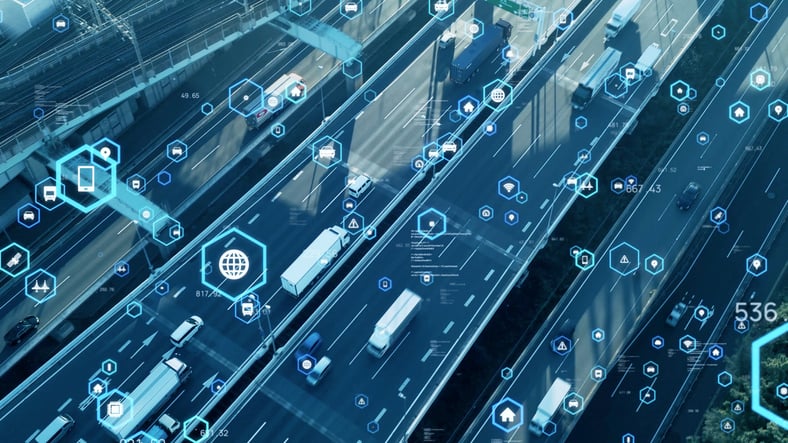 Ask any manufacturer in any industry what issue has been one of the biggest challenges since 2020 and most will say the same thing: supply chain management.
Through a variety of factors once never given a second thought, the global supply chain has slowed down drastically since the COVID-19 pandemic hit, causing daily headaches and frustration.
The automotive supply chain was not immune.
For the electric vehicle (EV) industry, the supply chain slowdown couldn't have happened at a worse time.
Just as EVs were gaining traction as a viable alternative transportation option for the masses and the electrification conversion was starting, gaps and delays in sourcing key components severely hampered production. Component suppliers, such as electric vehicle manufacturers, had to make tough decisions and sacrifices to meet market demand.
The reality is the automotive supply chain will mirror other supply chains, remaining constricted for some time. The pandemic's grip on the market – though loosening – isn't set to disappear suddenly.
Still, it's not impossible for EV manufacturers to operate efficiently in the present market when sourcing components. Part of meeting the demands of the current business climate is by aligning with partners – such as a sensor manufacturer – who are agile and established.
The 2022 Automotive Supply Chain & Persistent Issues
COVID hit the supply chain hard and we're still paying the price. Quarantines, plant shutdowns, labor shortages, shipping bottlenecks, and supply chain shortages continue in 2022.
However, the EV sensor supply chain had already seen issues before the pandemic.
Silicon wafers, a core component of sensors in electric vehicles, were in short supply due to high demand and several new players entering the market. This caused marketplace stress in acquiring the components — leading to increasing backlogs and delays.
Then, COVID hit, creating chaos and uncertainty at nearly every stage of the supply chain.
Even as the pandemic eases, however, its effects on the supply chain still linger, such as long lead times for EV sensors. Companies have seen these lead times extend out to 52 weeks in many cases.
The supply chain remains in triage mode in a fiercely competitive market for available materials. Materials suppliers serviced the largest customers first in the same ways that vendors are going to ensure they continue to supply large accounts like Walmart before they fill orders from mom-and-pop stores. This is especially important to keep in mind when choosing an EV sensor manufacturer since most companies are purchasing from the same limited pool of suppliers.
Supply chain management issues are going to be with us for some time to come. While some manufacturers had been predicting a resolution during the first half of 2023, insiders now say that the chip crunch isn't likely to resolve until sometime in 2024. That means who you partner with as your sensor manufacturer is more important than ever.
Navigating through these supply chain shortages in 2022 and beyond requires careful analysis of your own supply chain and having the right pieces in place to help alleviate some of the challenges.
Automotive Supply Chain Management + an OEM Sensor Manufacturer
OEM and Tier 1 suppliers must be agile and creative in working through the supply chain issues of 2022. To that end, automakers must partner with suppliers that can manage supply chain problems effectively.
When sourcing sensors used in electric vehicles under current market conditions, working with an experienced OEM manufacturer is an absolute must.
Why?
They are better positioned to weather the volatility in the supply chain in 2022 and be prepared for the future.
When vetting an electric vehicle sensor manufacturer, it's important to evaluate its:
Financial stability
Command over their own supply chain
Accurate forecasting
Ability to take on inventory
Flexibility
Experience
Independence
1. Financial Stability
Good credit and financial solvency are the foundation of any successful business.
In the case of an EV sensor manufacturer, financial stability equates to the ability to weather uncertain times and enhanced buying power A company with good credit and can pay its bills on time is better positioned to make large material purchases and get to the front of the line with their suppliers to meet order deadlines.
2. Supply Chain Command
Continuing supply chain issues in 2022 have caused delays, backlogs, and component shortages. When manufacturers have their own supply chain for materials, they can better meet your needs. Long-established, consistent relationships with suppliers help them get the raw materials they need to make your order.
3. Accurate Forecasting
Automotive supply chain issues have led to longer manufacturing times and higher prices. Thus, companies must be able to accurately forecast projects, including the time it takes to:
Source materials
Manufacture components
Deliver orders
While forecasting remains challenging, the best manufacturers have greater control over their suppliers and supply chain to provide better estimates.
4. Ability to Take on Inventory
Suppliers are often selling to the highest bidder due to scarcity. Manufacturers that buy in bulk are better positioned to control their supply chain needs. For example, buying a year's worth of materials is more likely to see better prices and guarantee availability than purchasing a month's supply. Savings on bulk purchases can mean the difference between buying a product with a familiar price tag or one that exceeds your budget.
5. Flexibility
Even for the best manufacturers, automotive supply chain management is tricky these days. Issues can arise quickly and often come in unforeseen ways. Sensor manufacturers must be able to pivot and solve problems rather than just accept outcomes.
In uncertain times, there's nothing better than working with a sensor manufacturer that exhausts every possible option to complete your order on time. Sometimes going a few extra miles is what it takes to push a project over the finish line and meet your deadlines.
6. Experience
An experienced, mature manufacturer will have deep connections within the industry to help navigate issues that come up. They will be in a better position to meet the challenges head-on and work quickly to develop solutions.
7. Independence
Sensor manufacturers that have a strong vertically-integrated supply chain operate with a level of independence. Rather than waiting for others to provide components to make your sensors, they're able to handle the job internally. This reduces their dependence on outside suppliers and helps them control their own destiny. In turn, they are better able to deliver even when competitors are stuck waiting for materials because of supply chain shortages.
Meeting Automotive Supply Chain Impediments Head On
Though it's nearly impossible to predict when the global supply chain will return to pre-pandemic functionality, conducting business as usual isn't. Meeting deadlines and completing orders now requires more forethought, flexibility, and sometimes a few creative solutions.
Adding an established EV sensor maker to your supply chain eases the burden of staying on track and helps your automotive manufacturing operation still deliver.
Add Amphenol to Your Supply Chain
Speak with one of our engineers today to learn how we support you: